Cotopaxi is the most beautiful volcano in the world, as well as one of the most active volcanoes in the world and the second highest volcano in Ecuador. The climb up to the summit of Cotopaxi is not highly technical, but it does require a pre-climb glacier travel course. You will take part in this course the afternoon before the ascent. The course includes the use of crampons, ice axes and ropes. Leaving from the refuge around midnight climbers begin the ascent of the volcano arriving at the top of Cotopaxi after sunrise at 6am. We recommend to you our Acclimatization Packages to ensure that you enjoy your climbing experience!
Travel Program
Itinerary:
Day 1: José Rivas Refuge – Elevation (15,951ft. / 4862 m.)
Day 2: Cotopaxi Summit – Elevation (19,347 ft. / 5897 m.)
Detailed Program:

Day 1: Quito 9,186 ft. / 2800m. - José Rivas Refuge (15,951ft. / 4862 m.)
We will leave Quito early in the morning around 9:30am and drive south through the Avenue of the Volcanoes until the entrance of Cotopaxi National Park. From here will drive east to the Cotopaxi parking lot (14,764ft/4500m) then we'll hike for around an hour to the Jose Ribas Refuge (15,748ft/4800m). In the afternoon we'll head up to the glacier for ice practice and training. We'll learn some basic techniques which will include how to handle climbing equipment (crampons, ice axe, rope, etc) then go back to the Refuge for dinner and rest. (D)
Day 2:
José Rivas Refuge - Summit Cotopaxi (19,347 ft. / 5897 m.)
Midnight will be our wake up time and the departure to the top (19,347ft/5897m) will be around 1am, after having a light breakfast and getting our stuff ready for the ascent. The climb will take us about 6 to 8 hours and once at the summit we'll take our time for pictures of the crater and surroundings, and then we'll head back down the refuge, which will take us 2 to 3 hours. Once at the refuge we will pack our belongings, have something to eat and go down to the parking lot, where our transportation will be ready to take us back to Quito (9,186ft/2800m).
(B)
What's Included:
Services included in the prices:
Ecuadorian qualified and experienced local Mountain Guide (ASEGUIM/UIAGM) ratio 2 climbers -1 guide)
Registration in the System SIB (System Information of Biodiversity )
Technical mountain equipment (Mountaineering Boots, crampons, ice axe, harness, helmet)
Land transportation and transfers to Cotopaxi National Park
Cotopaxi Refuge Jose Rivas 1 night
All meals during the hikes and climbs (shown above with B: Breakfast, BL: Box lunch and D: Dinner)
Not included:
Personal mountain gear (warm cloths, sleeping bags, sunglasses, head lamp, etc.)
International flight tickets
Hotel in Quito
Tips
Insurance of any kind Travel accident and health insurance
Luggage insurance and trip cancellation
Other non-specified expenses
_________________________________________________________
Recommendations: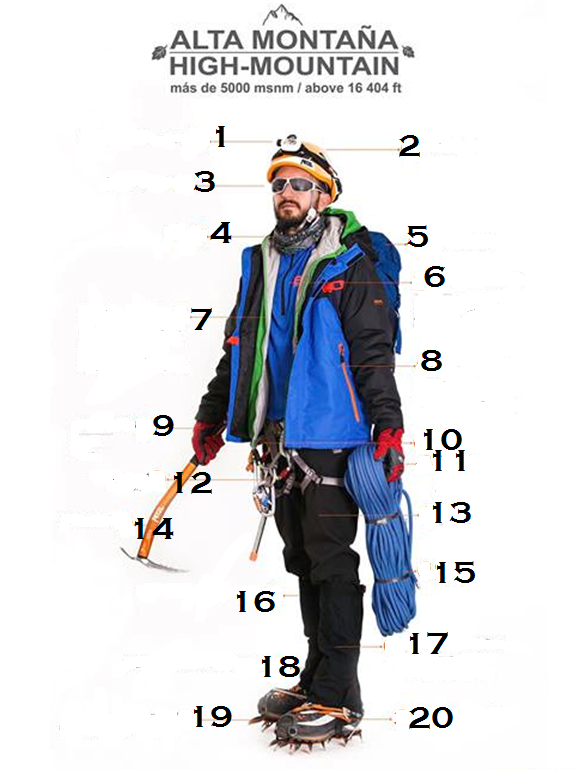 What to Bring?
1.- Head torch
2.- Helmet (includes)
3.- Sun Glasses
4.- Buff/ Warm cap  
5.- Backpack
6.- First layer
7.- Second layer
8.-Third layer (Waterproof Windbreaks, Waterproof pants)
9.- Mittens/Gloves
10.- Harness (Includes)
11.- Inside gloves
12.- Carabiners (Includes)
13.- Thermal pants
14.- Ice ax (includes)
15.- Dynamic Rope (includes)
16.- Thermal Lycra
17.- Gaiters (includes)
18.- Socks Mountain
19.- Crampons (Includes)
20.- Mountaineering boots (Includes)
21.- Sleeping Bag
22.- Battery Groups AAA
23.- Sunscreen
24.- Trekking Poles
25.- Thermo / Canteen fro Water
26.- Energy bars
Prices:
1 Person........... 480 USD
Group of 2.........280 USD per person
Group of 3.........360 USD per person
Group of 4.........280 USD per person
Group of 5.........330 USD per person
Date:
Location

Country / Location: Ecuador
Important Details
In Ecuador you can Climb all year, but these are the seasons
High Season:
June to August / December to January
Low season:
February to May / September to November
Ecuador is a fantastic destination that offers plenty of options for travel lovers. In addition to the Andes, Galápagos and Amazon Jungle are also part of this amazing land.

Difficulty: (Beginner) No prior climbing experience is required. Climbers should be in good physical condition and it is highly recommended that they have some backpacking experience.
Places:

*Available
Trip-code: Number ►Cotoclimb-2D
Duration: 2 days
Participants: Minimum: 2 Maximum: 12
Mountain Guide / TripAdvisor: Fernando Iza
Other dates / additional info: Contact us!

---
Legend Booking-information
EZZ - Single room supplement


On this trip, places are still available.


On this trip, only a few places left.


This trip is sold out / closed.