OVERVIEW
Chimborazo Summit Premium in 10 Days Tour
Cotopaxi Travel Company offer trips personalized with high quality services.   In our premium tour's selection, you find a variety of extraordinary travel ideas for the luxury market or an upmarket clientele. Those tours have been carefully designed to enjoy the best adventures, hotels and lodges of the destination, to really experience the culture, food and at the same time allow time for relaxation and personal discovery.
ITINERARY
| | | |
| --- | --- | --- |
| # Day | Place | Altitude |
| Day1 | Arrive Quito   | 2800 m./9,186 ft |
| Day 2 | Rucu Pichincha Volcano | 4784 m./15,695 ft |
| Day 3 | Cotopaxi National Park     | 226 m m./741.4 ft |
| Day 4 | Cotopaxi Refuge | 4864m. /15,958 ft |
| Day 5 | Cotopaxi Summit | 5897 m./19,347 ft |
| Day 6 | Baños City | 1800 m./ 5,905  ft |
| Day 7 | Chimborazo Lodge | 3700 m../12,139 ft |
| Day 8 | Chimborazo High Camp | 5300 m./17,388 ft |
| Day 9 | Chimborazo Summit | 6.268m./20,702 ft |
| Day 10 | Depart Ecuador | -/-/- |
Chimborazo summit premium program DAY BY DAY
Day 1: Arrive Quito
Elevation: 2800 m./9,186 ft
Arrive in Quito and be transferred to your hotel. Enjoy a tour of the city's sights before a Welcome Dinner this evening.
Day 2: Rucu Pichincha Volcano
Elevation: 4784 m./15,695 ft
We started early in the morning at 8:00 am to have plenty of time. Round trip from the top of the Teleferico to the Rucu Summit takes about 4 - 6 hours. The hike to Rucu Pichincha is very popular for acclimatization purposes also is a glorious way to explore the Andean wilderness only a short distance outside of Quito. After reaching this spectacular summit we return to the city. Overnight at the Hotel.



Day 3: Cotopaxi National Park
Elevation:  3700 m./12,139 ft
Today we hike about two hours to the entrance of the glacier on Cotopaxi. We spend the day practicing skills, including self-arresting with an ice axe, climbing in crampons, traveling on rope teams, and crevasse rescues. We also take time scouting our summit route. After a full day, we descend back to Tambopaxi.
Day 4: Cotopaxi Refuge
Elevation: 4864m. /15,958 ft

We spend the morning for resting, hydrating, eating, and trying to get some sleep. After luch 14:00 pm we will drive to the parking lot and hike to the shelter Jose Ribas. Then we will have dinner and rest until midnight. At this point we will pack our belongings and get ready to make our final ascent.

Stay: Cotopaxi Refuge (Jose Ribas)
Daily: Breakfast / Box lunch/ Dinner
Day 5: Cotopaxi Summit
Elevation: 5897 m./19,347 ft
Midnight will be our wake-up time and the departure to the top will be around 01h00, not before having a light breakfast and get our stuff ready for the ascent, the climb will take us about 6 to 8 hours. Once at the summit we'll take our time to take pictures of the crater and surroundings, and then we'll head down back to the refuge, which it will take us 2 to 3 hours. Once at the refuge will pack our belongings, have something to eat and go down to the parking lot, where our transportation will be ready to take us to Banos city.
Day 6: Baños City

Elevation: 1800 m./ 5,905  ft
This Beautiful and picturesque town offers you a lot of possibilities to spend an unforgettable day.
After breakfast 9:00 am, we will explore the spectacular nature that surrounds Baños. We will visit one of the most amazing visitor's sites of Baños, El Pailón del Diablo (the Devil's Cauldron) – an impressive waterfall with a drop of approximately 80 meters (260 feet) that releases an incredible amount of energy as the water crashes against the stone walls that surround it and create a deafening roar. It is an marvel without match. After these visits, we will enjoy the distinct Sierra cuisine at lunch in a local restaurant. Then will visit the famous tree house is undoubtedly the best place to observe the Tungurahua Volcano, located in the hamlet Runtún, and is 2600 meters above sea level.
It is a perfect place to do a picnic with friends, enjoy a family day, hike around the surrounding areas, take pictures from the andes mountains, or just chill and relax enjoying the calm and peace from this beautiful spot. Overnight at lodge
Day 7: Chimborazo Lodge
Elevation: 5897 m./19,347 ft
This day we return to the altitude again after relaxing in the city of Banos. The Chimborazo Lodge has very good value for the best value in Chimborazo. Customers get more out of their money compared to other accommodations in the same city.
Rooms at Chimborazo Lodge have gabled wooden ceilings and mountain views.
Day 8: Chimborazo High Camp
Elevation:5300 m./17,388 ft
In the morning at 11:30 am we will meet with the guides to drive to the Chimborazo wildlife reserve. We will arrive at the refuge Hermanos carrel from there we will start the hike to the High camp in approximately 2 to 3 hours we get to camp once here, we will accommodate in our tents. In the afternoon we will prepare and double check all the gear for the climbing. Where we'll have dinner and get some rest until 23h00. There will be an early light breakfast served just before getting ready with our gear and start heading up.

Stay: Overnight in 4-season tents
Daily: Breakfast / Lunch/ Dinner
Day 9: Chimborazo Summit  
Elevation: 6.268m./20,702 ft
At midnight we will start our climb to the top of Ecuador's highest volcano, Chimborazo, which will take us about 8 to 9 hours. We'll get to the summit (20,702ft/6268) in the early hours the perfect spot for resting and pictures of the beautiful surroundings. Then we'll start our descending to the refuge; it will take us from 3 to 4 hours. Once in refuge we'll pack our gear, where our transportation will be ready to drive up to Quito.
Day 10:  Depart Ecuador  
Elevation: -/-/
SERVICES
Services included in the tour cost:
Acclimatization Climbing Program
Ecuadorian qualified and experienced local Mountain Guide (ASEGUIM/UIAGM) ratio 2 climbers -1 guide)
A registered and fully licensed Tour Operator
Land transportation and transfers
Accommodations:
2 nights at Hotel Gangotena
1 night at Tambopaxi lodge
1 night at Jose Rivas Refuge
2 nights at Luna Runtun
1 night in tents (Chimborazo High Camp)
1 night at Swiss Hotel Quito
All meals during the hikes and climbs (shown above)
Porters, tents, and camping utensils for high camp
Not included:
Technical mountain equipment (crampons, ice axe, harness, helmet)
International flight tickets
Meals and drinks in hotels (lunch, dinner)
Insurance of any kind
Tips
Travel accident and health insurance
Luggage insurance and trip cancellation
Other non-specified expenses
_________________________________________________________
Recommendations: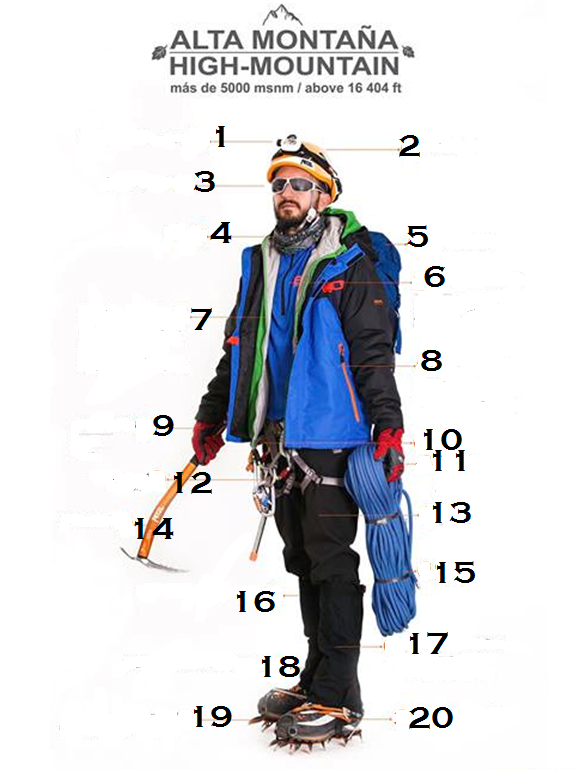 What to Bring?

1.- Head torch
2.- Helmet (includes)
3.- Sun Glasses
4.- Buff/ Warm cap  
5.- Backpack
6.- First layer
7.- Second layer
8.-Third layer (Waterproof Windbreaks, Waterproof pants)
9.- Mittens/Gloves
10.- Harness (Includes)
11.- Inside gloves
12.- Carabiners (Includes)
13.- Thermal pants
14.- Ice ax (includes)
15.- Dynamic Rope (includes)
16.- Thermal Lycra
17.- Gaiters (includes)
18.- Socks Mountain
19.- Crampons (Includes)
20.- Mountaineering boots (Includes)
21.- Sleeping Bag
22.- Battery Groups AAA
23.- Sunscreen
24.- Trekking Poles
25.- Thermo / Canteen for Water
26.- Energy bars
PRICES & PAYMENT
1 Person........... 0-0
Group of 2......... 0-0
Group of 3.........0-0
PAYMENT & CANCELLATION
Payment
In order to confirm the reservation of any tour service provided by Cotopaxi Travel Company Cia. Ltda. we require a pre-payment of 30% of the tour price. The remainder is to be carried out before climbing tour or travel starts. We will not send confirmations, vouchers or flight tickets until the full balance has been received, and we reserve the right to cancel your trip if full payment is not received prior to the start date.
PRICES, SURCHARGES AND CREDIT CARD CHARGES
All prices we advertise are accurate at the date published/advised, but we reserve the right to change any of those prices prior to booking. Before you make a booking we will give you the up-to-date price of your chosen programme including the cost of any peak-season supplements, upgrades or additional facilities which you have requested.
For all payments made by credit card, a 6% service fee will be added to the cost. The additional costs for every transfer made out to Cotopaxi Travel Company Cia. Ltda. Ecuadorian Taxes and bank transfer fees, will have to be paid by you, the client. We are obligated tu charge 12% IVA for every payment realized by Ecuadorian citizens.
Cancellation by You
Notice of cancellation by you must be given in writing. Should you cancel, the following scale of charges will apply:
- 30 days or more before the Departure Date = loss of deposit.
- 29 to 15 days from the start of the trip = 50% of total trip cost
- Less than 14 days before the Departure Date = loss of 100% of total trip cost,
unless agreed otherwise with cotopaxi travel due to unforeseen circumstances.
Cancellation by Cotopaxi Travel Company
A trip may be cancelled as a result of unforeseen events and beyond Cotopaxi Travel´s control including but not limited to war, riot, industrial dispute, terrorist activity, natural Cotopaxi Travel• Calle Guayaquil 6-74 y Sanchez de Orellana- Latacunga - Cotopaxi - Ecuador Terms & Conditions 2 or nuclear disaster, fire, epidemics or health risks, closed or congested airports, ports or stations, changes imposed by re-scheduling or cancellation of transport, adverse weather conditions.
DATE
November 02/2021

November 06/2021

November 10/2021

November 24/2021




Other dates / additional info: Contact us!
LOCATION

CCountry / Location: Ecuador
IMPORTANT DETAILS
In Ecuador you can Climb all year, but these are the seasons
High Season:
June to August / December to January
Low season:
February to May / September to November
Ecuador is a fantastic destination that offers plenty of options for travel lovers. In addition to the Andes, Galápagos and Amazon Jungle are also part of this amazing land.
Difficulty:
Demanding
Places:

*Available
Trip-code:
Number
►Ec-1981
Duration:
2 days
Participants:
Minimum: 2 Maximum: 12
Mountain Guide:
Fernando Iza
Other dates / additional info:
Contact us!
---
Legend Booking-information
EZZ - Single room supplement


On this trip, places are still available.


On this trip, only a few places left.


This trip is sold out / closed.