Ecuador and its famous Avenue of the Volcanoes is one of the best places of the world for those who love mountaineering, a variety of landscapes and challenging surfaces. This time we invite you to a exciting hiking and ice climbing adventure across the green lands, the secret paths and the snow-covered peaks located along the equator line.

These 11 days will be very intensive because we will climb up to five different volcanoes. Our base will be El Chaupi, a small town at 3300 meters, where we will go back after each summit hike in order to rest for the following ascent.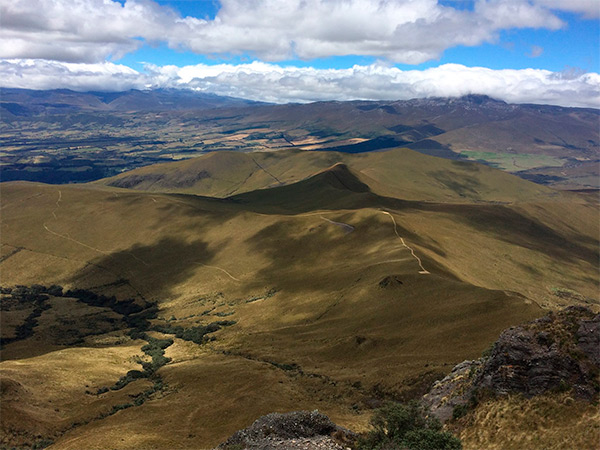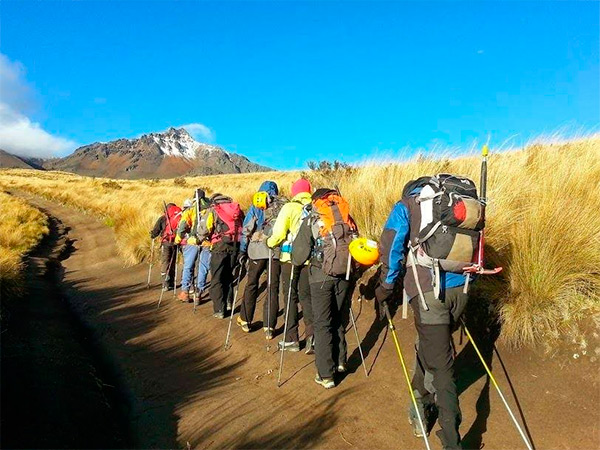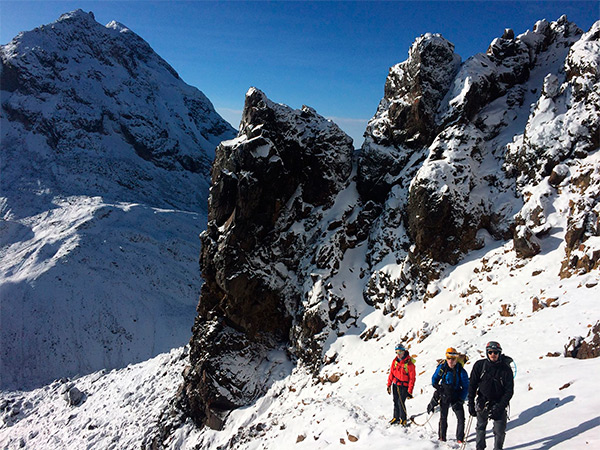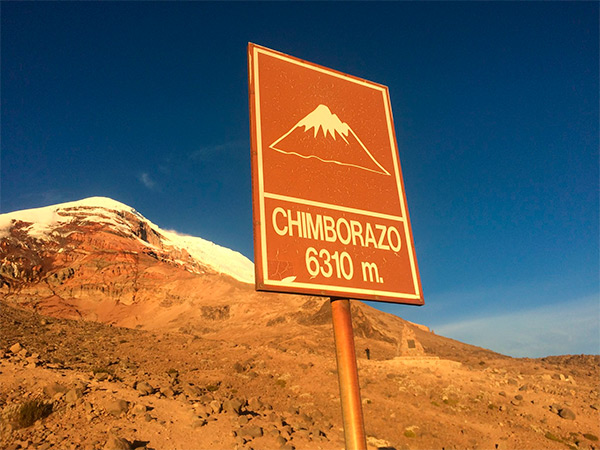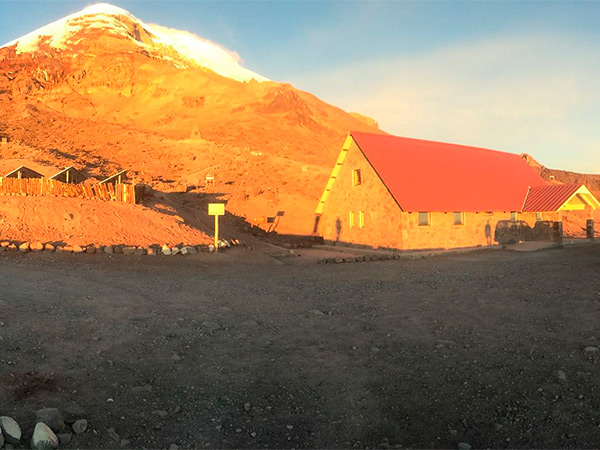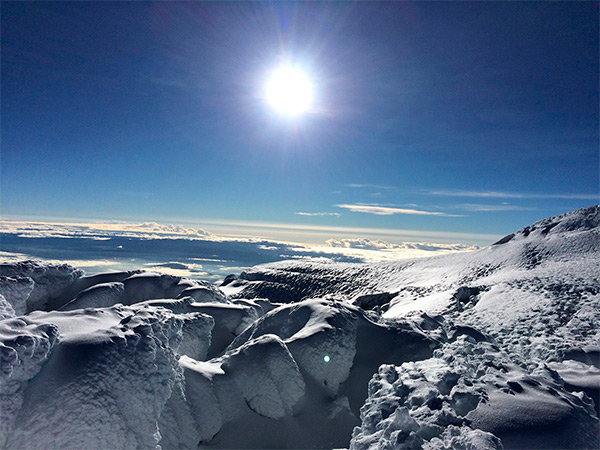 Travel program
Itinerary:
Day 1: Flight to Quito (2800 m)
Day 2: Pasochoa (4200 m)
Day 3: El corazón Volcano (4788 m)
Day 4: Acclimatization in Nuevos Horizontes Refuge
Day 5: Illiniza Norte 5126 m Summit
Day 6: Cotopaxi Shelter (4864 m)
Day 7: Cotopaxi Summit (5897 m)
Day 8: Baños (6,012ft/1800 m)
Day 9: Hermanos Carrel Refuge Chimborazo (16,400ft/5000 m)
Day 10: Chimborazo Summit (20,702ft/6268 m)
Day 11: Final Point
Detailed Program

Day 1: FLIGHT TO QUITO (2800 M) – TRANSFER TO HOTEL
You will be taken from Quito airport to the accommodation where we will meet each other and get ready for the following day.

Day 2: FIRST SUMMIT, PASOCHOA - EL CHAUPI 3300M
We will drive for two hours to get to Pasochoa. We will then hike through a large forest and when we are in the middle of it, a 4230-meter summit will appear. There is a steep sloop on the ascent, but once there we will have beautiful views. We will then return to El Chaupi.

Day 3: EL CHAUPI - CORAZON SUMMIT 4788 M
During the climb to Corazon summit, we will enjoy green lands and fantastic landscapes that turn to hard surfaces after an hour. The ascent to Corazon's 4786m summit will take us about 8 hours. Once there we will return to El Chaupi again.

Day 4: ACCLIMATIZATION IN NUEVOS HORIZONTES REFUGE
Nuevos Horizontes is a hut located at 4750 meters, between two peaks called Illinizas. The climb will help our body acclimatise before our third peak: Illiniza Norte.

Day 5: ILINIZA NORTE SUMMIT
The ascent to the Illiniza Norte summit will be unbelievable. On the way up we can admire green landscapes and scrambled paths. The climb will take us about 3 hours but once in the summit, you won't want to go down. Our fifth day finishes when we get to El Chaupi after 3 hours of descent.

Day 6: JOSE RIBAS REFUGE
From El Chaupi we will drive south through the Avenue of the Volcanoes to the Cotopaxi National Park entrance. From here we'll drive east to the Cotopaxi parking lot (14,764ft/4500m) then hike for an hour to the Jose Ribas Refuge (15,748ft/4800m). In the afternoon we'll head up to the glacier for ice training. We'll learn some basic techniques which include how to handle climbing equipment (crampons, ice axe, rope, etc) then return to the Refuge for dinner and rest. (BL/D)

Day 7: CLIMBING TO COTOPAXI SUMMIT AT 5897 M
Midnight will be our wake up time and the departure to the top (19,347ft/5897m) will be around 1am, not before having a light breakfast and getting our stuff ready for the ascent. The climb will take us about 6 to 8 hours. Once at the summit we'll take our time for pictures of the crater and surroundings, and then head back down to the refuge, which will take 2 to 3 hours. Once at the refuge we'll pack our belongings, have something to eat and go down to the parking lot to return to El Chaupi. (B/BL)

Day 8: REST DAY IN QUILOTOA SHALALA LAGOON
We will spend our deserved rest day in the marvellous lagoon of Quilota Shalala before returning to El Chaupi to sleep and get ready for the last part of this intensive trip.

Day 9: ACCLIMATIZATION DAY IN WHYMPER REFUGE
Leaving El Chaupi early in the morning, we will drive to the Chimborazo Wildlife Reserve entrance (2 hours), then to the Hermanos Carrel Refuge (15,744 ft/4800 m), where we'll have dinner and get some rest until 11pm. An early light breakfast will be served just before getting ready with our gear and starting the climb (B/BL/D)

Day 10: CHIMBORAZO, THE FIFTH SUMMIT
At midnight we will start our climb to the top of Ecuador's highest mountain, Chimborazo, which will take us about 8 to 9 hours. We'll get to the summit (20,702ft/6268m) in the early hours, which is the perfect spot for resting and taking pictures of the beautiful surroundings. We'll then start our descent back to the refuge which will take us from 3 to 4 hours. Once at the refuge we'll pack our gear and drive back to Quito. (B)

Day 11: FINAL POINT
Once in Quito again, you are free to go home o keep visiting the amazing country of Ecuador.
You can't tell me this adventure is not a temptation for those who like mountain challenges. I am sure you are one of them! I will be waiting for your contact to organize your trip across these five volcanoes.(-/-/-)


What's Included
Services included in the prices:
Acclimatization Climbing Program
Ecuadorian qualified and experienced local Mountain Guide (ASEGUIM/UIAGM) ratio 2 climbers -1 guide)
A registered and fully licensed Tour Operator
Technical mountain equipment (crampons, ice axe, harness, helmet)
Land transportation and transfers
Accommodations: 4 nights in Hostal y Café Andes Alpes; 1 night Oleas Ruales Refuge; 1 night Chimenea Hotel; 1 night Hermanos Carrel Refuge:
All meals during the hikes and climbs (shown above with B: Breakfast, BL: Box lunch and D: Dinner)
Not included:
Personal mountain gear (warm cloths, sleeping bags, sunglasses, head lamp, etc.)
International flight tickets
Meals and drinks in hotels (lunch, dinner)
Insurance of any kind
Tips
Travel accident and health insurance
Luggage insurance and trip cancellation
Other non-specified expenses
Prices & Dates
In Ecuador you can Climb all year, but these are the seasons
High Season:
June to August / December to January
Low season:
February to May / September to November
Ecuador is a fantastic destination that offers plenty of options for travel lovers. In addition to the Andes, Galápagos and Amazon Jungle are also part of this amazing land.
Difficulty:
Demanding
Dates & Prices:
From 1290 to 2350 USD / Contact us! ✓
Places:

*Available
Trip-code:
Number
►Ec-1981
Duration:
5 days
Participants:
Minimum: 2 Maximum: 12
Country / Location:
Ecuador
Mountain Guide:
Fernando Iza
Other dates / additional info:
Contact us!
---
Legend Booking-information
EZZ

-

Single room supplement

On this trip, places are still available.

On this trip, only a few places left.

This trip is sold out / closed.