OVERVIEW
Iliniza norte Hike, Camp and Summit
This tour is an excellent trip for the people love hike, camp and climb, these experiences are suitable for all experience levels: from beginners and amateur enthusiasts to professionals. The tour is organized in the Ilinizas Ecological Reserve where will enjoy the spectacular views of Cotopaxi volcano and the Ilinizas peak. This adventure is unique in the area, due to its easy ascent to reach a good height that will help you to continue climbing the highest mountains in Ecuador such as Cotopaxi and Chimborazo.
ITINERARY
| | | |
| --- | --- | --- |
| # Day | Place | Elevation |
| Day 1: | Hike and camp at La virgin | 3900m./12,795ft |
| Day 2: | Illiniza North Summiting | 5126 m./16,818 ft |


Ilinizas Climbing
Day 1: Hike and camp at La Virgen
Elevation: (12,795ft/3900m).
We will leave Quito early in the morning around 8:30 a.m. and we will drive south along the Avenue of the Volcanoes until we reach the town of El Chaupi. This town is the location of Cotopaxi-Travel's home base, there we will prepare all the necessary equipment for the hike, camp and climb. After take everything we start the hike until to the La Virgen this hike takes around 3 hours where our tents are ready for relax and enjoy the views. Overnight at the camp
Accommodation: Overnight in 4-season tents
Meals: Lunch Box, dinner
Day 2: Summiting Iliniza North
Elevation: (16,818ft/5126m)
We start early in the morning after breakfast 4:30. We will start a 3-hour hike up to the "Nuevos Horizontes Refuge" (15,580ft/4.750m). We will relax for couple of minutes and we took the opportunity to put our helmet and harness for continue hiking up towards the saddle formed between both peaks and then head up to the north peak; it will take us between 2 to 3 hours to get to the summit, the way back to the parking lot it will take us between 2 hours. We will drive to Quito.
Accommodation:
Meals: (Breakfast/ Box Lunch/-)
SERVICES
Services included in the prices:
Superior service
A registered and fully licensed Tour Operator
Private transportation to the whole tour
Professional ASEGUIM mountain guide (ratio 2 climbers -1 guide)
Helmet and Harness
Meals on the mountain as mentioned above (B: Breakfast; BL: Box Lunch; D: Dinner)
Illinizas entrance fee, and permit registration
Not included:
Personal mountain gear (warm cloths, sleeping bags, sunglasses, head lamp, etc.
Extra drinks in the Hut
Tips
Insurance of any kind
Other non-specified expenses
What's Included
Services included in the tour cost:
Ecuadorian qualified and experienced local Mountain Guide (ASEGUIM/UIAGM)
Registration in the System SIB (System Information of Biodiversity)
Land transportation and transfers to National Parks
Accommodations in 4-season tents
All meals during the hikes and climbs (shown above with B: Breakfast, BL: Box lunch and D: Dinner)
Not included:
International flight tickets
Meals and drinks in hotels (lunch, dinner)
Insurance of any kind
Hotel in Quito
Tips
Travel accident and health insurance
Luggage insurance and trip cancellation
Other non-specified expenses
_________________________________________________________
Recommendations: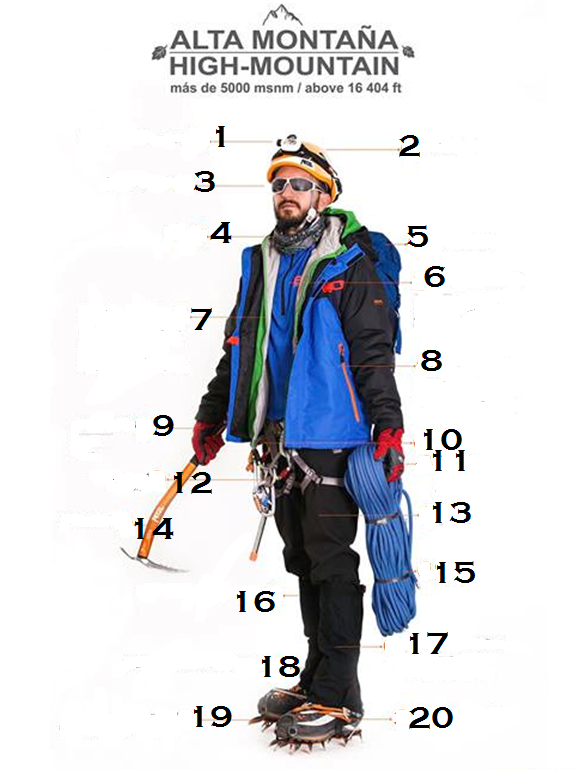 What to Bring?
1.- Head torch
2.- Helmet (includes)
3.- Sun Glasses
4.- Buff/ Warm cap  
5.- Backpack
6.- First layer
7.- Second layer
8.-Third layer (Waterproof Windbreaks, Waterproof pants)
9.- Mittens/Gloves
10.- Harness (Includes)
11.- Inside gloves
12.- Carabiners (Includes)
13.- Thermal pants
14.- Ice ax (includes)
15.- Dynamic Rope (includes)
16.- Thermal Lycra
17.- Gaiters (includes)
18.- Socks Mountain
19.- Crampons (Includes)
20.- Mountaineering boots (Includes)
21.- Sleeping Bag
22.- Battery Groups AAA
23.- Sunscreen
24.- Trekking Poles
25.- Thermo / Canteen fro Water
26.- Energy bars
PRICES & PAYMENT
1 Person............000 USD
Group of 2......... 000 USD per person
Group of 3..........000 USD per person
Group of 4..........000 USD per person

DATE
March 2022
March 2022
March 2022
March 2022
LOCATION
Country / Location: Ecuador
IMPORTANT DETAILS
In Ecuador you can Climb all year, but these are the seasons
High Season:
June to August / December to January
Low season:
February to May / September to November
Ecuador is a fantastic destination that offers plenty of options for travel lovers. In addition to the Andes, Galápagos and Amazon Jungle are also part of this amazing land.
Difficulty:
Demanding
Dates & Prices:
To be determined / Contact us! ✓
Places:

*Available
Trip-code:
Number
►Ec-1981
Duration:
2 days
Participants:
Minimum: 2 Maximum: 12
Country / Location:
Ecuador
Mountain Guide:
Fernando Iza
Other dates / additional info:
Contact us!
---
Legend Booking-information
EZZ

-

Single room supplement

On this trip, places are still available.

On this trip, only a few places left.

This trip is sold out / closed.
FAQ'S TIPS AND ADVICES
FAQ's
IS NECESSARY PREVIOUS GLACIER EXPERIENCE?
Having previous glacier experience is not required. We do recommend that you have joined one of our best acclimatization and ascent programs containing instructions and skills that we teach you as previous mountaineering training helps you enjoy the overall experience. Is also important that you try out your mountaineering gear prior to joining this adventure if you don't have we have for you in our rental equipment shop.
WHEN IS THE BEST TIME TO CLIMB COTOPAXI?
A). In Ecuador you can Climb all year, but these are the seasons - High Season: June to August / December to January - Low season: February to May / September to November
B). Likewise, weather forecasts are very unpredictable. Therefore, we recommend being prepared for all types of weather.
DO I REALLY NEED RESCUE INSURANCE?
We strongly urge you to purchase travel and accident insurance. We recommend Global Rescue for both types of insurance.
IS COTOPAXI A DANGEROUS MOUNTAIN?
A). Cotopaxi is a relatively safe climb on the routes we climb. The biggest challenges are the high altitude and people not coming physically prepared. Some groups try to ascend too quickly and do not take the time to acclimatize. We do not have this issue because our itinerary has been carefully planned over years of experience working in low oxygen environments.
ACCLIMATIZATION IS IMPORTANT AND HOW DO I PREPARE FOR HIGH ALTITUDE?
A). Acclimatization is the most important and should be taken seriously. Even if you are fit and practice any physical activity, it is important to follow the process for a successful climb.
B). Firstly, there is some very specific training you should be doing. Learn more. Let's be clear, always pick the itinerary with more acclimatization built in. After that, you need to focus on mapping out a training plan that focuses on strength and endurance. We will pace the trip at lower heart rates so we can perform for longer periods of time. You still need to be comfortable hiking for 6+ hours. We know that building up the weight you carry in your backpack for hours at sea level builds endurance, strength and cardio which stress tests your body for high altitude. We can help you learn more about how to prepare for your high-altitude adventure.
WHAT KIND OF GEAR, CLOTHING AND EQUIPMENT DO I NEED TO BRING?
A). We will provide you with a full detailed itemized kit list so that you.
SAFE TO BRING AND LEAVE OUR BAGS IN THE BASE CAMP?
A). Yes, you can leave a bag of items not needed in our base camp. You can also leave valuable items in the safe.
WHAT ROUTE DO WE CLIMB ON?
A). Depending on the glacial conditions we will follow the safest route to the top. We also leave from the refuge at 4864 m./15,958 ft for all our summit attempts
. DO YOU HAVE TRAINING ADVICE?
A). If you sign up to one of our trips, we can give ongoing advice. We also have training courses in Cotopaxi that you can sign up to.
CAN I PAY WITH CREDIT CARD?
A). Yes, you can do it

TIPS

Develop a personalized training plan. Mountaineering requires multiple types of training, each focusing on a different need:
Cardio workouts to improve the overall fitness level of your heart and lungs.
Interval sessions to boost your ability to process more oxygen with each breath.
Strength and endurance exercises so you can haul a heavy load and sustain physical output for many hours.
Balance and flexibility training because you need both for mountaineering.
Hiking days to extend your training into real-world situations.